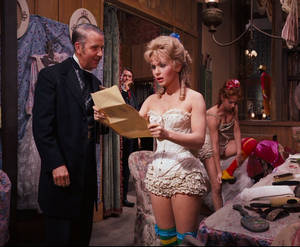 How the West Was Won
was a 1963 American Metrocolor epic-Western film. The picture was one of the last "old-fashioned" epic films made by Metro-Goldwyn-Mayer to enjoy great success. Set between 1839 and 1889, it follows four generations of a family (starting as the Prescotts) as they move ever westward, from western New York state to the Pacific Ocean. The picture was filmed in the curved-screen three-projector Cinerama process.
A dash of spice as provided by the "Lily Prescott Dancing Troupe", performing a quasi-cancan routine at the "St. Louis Music Hall" in the second act of the film. The sequence is followed by a backstage conversation in which Lily and her girls strip down to their panties, stockings and corsets while several patrons look on. Both scenes were probably considered quite risque by early sixties standards.