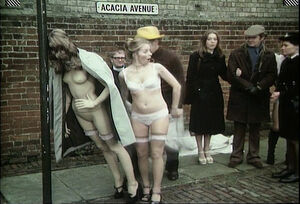 The
Acacia Avenue Safari Park
is an English location, possibly in
Lower Tidmarsh
,
Little Dimpton
or Teddington. Out on the street, several locals (Libby Roberts, Henry McGee and Moira Foot?) along with a priest (Don Estelle) are alarmed by what looks like a man (
Benny Hill
, playing one of his "duffer" characters) with a scantily clad girl on the street. A police woman (Jeannie Collings) shows up to investigate, and Benny reveals it's just mannequin which he drapes his overcoat over to explain to the officer. Meanwhile, a woman in an overcoat (Debbie Greenhill?) strolls up, and as the miscreant reveals his mannequin, he rips off her coat to reveal her underwear, inciting a melee. He flees the by-standers into the park where he jumps onto an ostrich to ride to freedom.
Summary by User:Thor2000
Originally broadcast on March 26, 1975 (episode 24)
A similar premise was used in "Bus Stop" the following year.
Slide Gallery
Edit